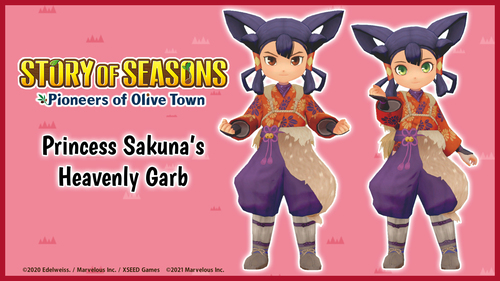 Princess Sakuna's Heavenly Garb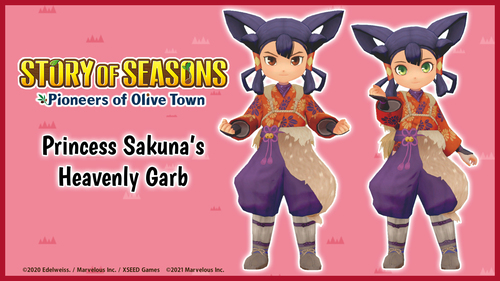 Details
MSRP: Free
Released: September 15, 2021
Publisher: Marvelous (XSEED)
Download size: 5 MB
ESRB Rating: Everyone
Play modes: TV, Tabletop, Handheld
This game is not currently available at any of the stores that Deku Deals tracks.
---
Description
Rice is power! STORY OF SEASONS: Pioneers of Olive Town and Princess are cultivating a divine collaboration!
For a limited time, farmers in Olive Town can obtain Princess Sakuna's Heavenly Garb and channel their inner harvest goddess with an outfit and hairstyle inspired by the deity herself.
* The protagonist outfits will become available once you have completed the town development request to build the salon. You may then commission the outfits from Karina.
* All protagonist outfits can be worn regardless of gender chosen.
* This is a limited-time promotion running from 9/15/2021 at 10:00 AM PDT to 3/30/2022 at 9:59 AM PDT. The add-on content is only available for download during this period.
---
Other users also liked...