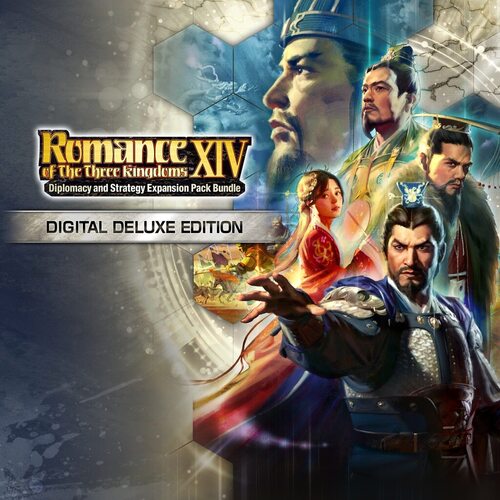 ROMANCE OF THE THREE KINGDOMS XIV: Diplomacy and Strategy Expansion Pack Bundle Digital Deluxe Edition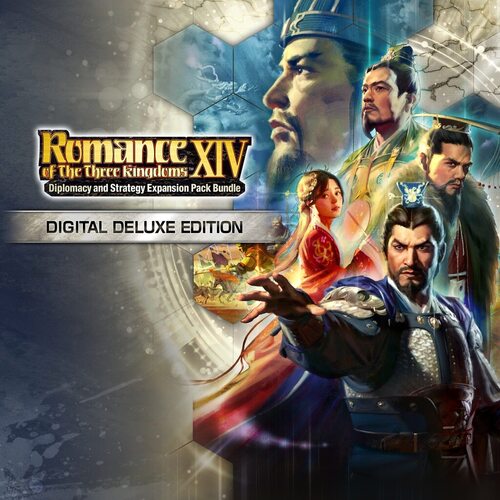 Details
MSRP: $99.99
Released: February 11, 2021
Publisher: KOEI TECMO AMERICA
Download size: 12.367 GB
ESRB Rating: Everyone 10+
Play modes: TV, Tabletop, Handheld
Current prices
---
Price history
All time low
$59.99
(-40%)
---
Description
[Content included with this product]
- "ROMANCE OF THE THREE KINGDOMS XIV: Diplomacy and Strategy Expansion Pack Bundle" game software
- Season Pass
[Season Pass Content]
RTK 13 Officer Face CG Set
Editor - Historical Officers
Scenario [Battle of Tong Gate] & Event Set
Difficulty [Veteran] & Scenario Settings Set
BGM Editor & Bonus BGM Set
Scenario [The Lu Bu Campaign] & Event Set
Game Editors
Scenario [Hebei Conflict] & Event Set
Scenario [The Battle of Hefei] & Event Set
[Extreme] Difficulty & Scenario Settings Set
Scenario [Conflict among Clans]
Scenario [A Yellow Sky]
Scenario [Gongsun Zan: the Hero of Hebei]
Note: For details about the DLC released with the Season Passes, please visit the official website.(https://www.koeitecmoamerica.com/rtk14/wpk/)
Note: The game software, Season Passes, and each DLC item are also available for individual purchase. Be careful to avoid making a redundant purchase.
[About the Game]
The Diplomacy and Strategy Expansion Pack for the series' latest title "ROMANCE OF THE THREE KINGDOMS XIV" is available at last!
An all new world of strategy awaits you.
Make a display of your strategies on an increasingly worldly stage!
[About the Game]
●With new elements "Geographic Advantages" and "Outlander Cities", the strategy of conquering land is even deeper!
With "Geographic Advantages" based on the characteristics of each province, as well as the appearance of outlander tribes, the intensity of battling for land has been taken to the next level.
●A series first! Trade with foreign nations throughout Eurasia!
By trading with great nations such as Rome and India, players can obtain various unique Specialties and Tactics as rewards.
●Enjoy the Romance of the Three Kingdoms easily with "War Chronicles Mode"
Short scenarios that depict famous scenes from the novel have been prepared. Show off your high scores that are displayed upon clearing them!
●Many elements such as "Traits", "Tactics", and more have been newly added to enhance gameplay!
---
Screenshots
---
Contains
---
Other users also liked...