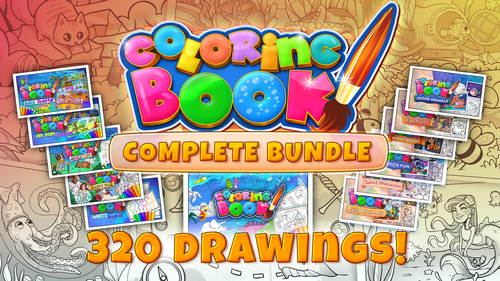 Coloring Book: Complete Bundle - 320 drawings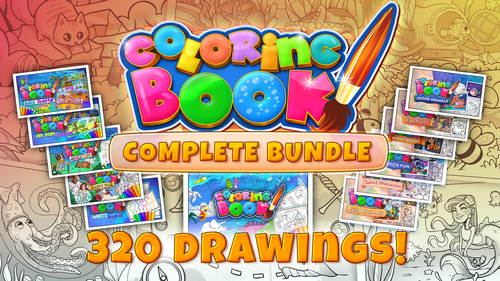 Details
Released: September 9, 2022
Publisher: naptime.games
Download size: 671 MB
This game is not currently available at any of the stores that Deku Deals tracks.
Description
Coloring Book Bundle Complete has everything you need to have to immerse yourself in the world of drawing relaxation, creative mindfulness and pure fun! Coloring Book: Bundle Complete is the all-inclusive, high quality pack of Coloring Book and all the DLCs.
What do you get? - Coloring Book game
Classic Tales with 30 drawings divided into 6 themes: European Fairy tales, Stories of the American Indians, Pacific Myths, Winter Europe Tales, Oriental World.

Adventure Chapter with 30 drawings divided into 5 unique boards: creatures from outer space, delicious looking desserts, cute animals in the woods, adorable dogs in the living room, mighty cats in a fantasy world

Basic Chapter with 48 drawings with 8 different themes: jungle, space, cats, ocean, farm, girls, room, construction site, dinosaurs

Om Nom Chapter with the ever-hungry hero of the famous Cut the Rope series. 14 drawings divided in 4 themes: Sports, Crazy Labo, Supernom and Nommies

Whiteboards with 17 empty canvases to express your talent

Coloring Book: Farm Life with 30 pictures of countryside animals and their daily activities

Coloring Book: Ocean Animals with 30 pictures of aquatic life and their underwater habitats

Coloring Book: Treasure Adventure with 30 pictures of coloring adventures in mysterious places

Coloring Book: Cosmos Fun with 30 pictures of extraterrestrial adventures

Coloring Book: Sweet Princesses with 30 pictures of beautiful princesses ready to be colored

Coloring Book: Silly Animals with 30 pictures of clumsy and funny wildlife animals
Unleash your creativity with: - A palette of 130 colors for fantastic nuances and 15 theme palettes, 12 colors each. - 9 tools for advanced effects and convenience – a brush that always paints inside contours for example. - Use the touch screen or the buttons on the Joy-Con™. - Up to 4 players can color in the same time! - Save your images and view them easily in your album.
---
Contains
---